Invest in Croatia and become owner of a Beneteau sailing boat with us. Ultra Sailing has selected a list of interesting boats for the next charter season we would like to offer to any interested customer or partner. The 2023 nautical season with his list of new challenges, is running in full speed right now and we must be satisfied with the charter results. Our focus is already in the 2024 nautical season and the first results are already satisfying from our experience. Ultra Sailing is always improving our service and we are proud to offer a Beneteau fleet with newer models in different layouts to adapt any market, our Beneteau boats always offer a high-level standard to our charter guests as A/C unit, extra sails, WIFI, dinghy. Our booking and our peer try to always be responsive and as much as flexible possible to any demand. Ultra Sailing is also the unique charter company able to offer the full First range for rental with First 27, First 36, First 44 and First 53 available from one unique base, the Split base.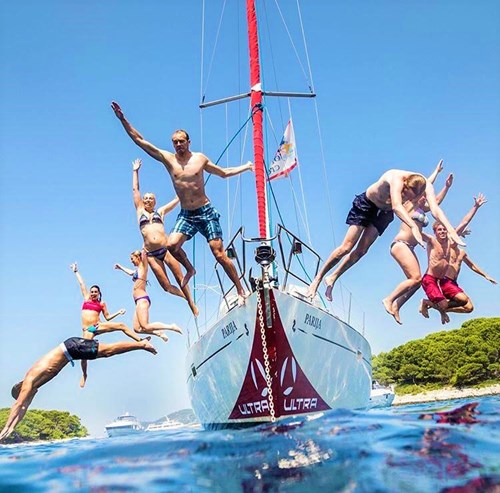 Next season Ultra sailing plans new acquisition and new models while keep improving our existing models. The most attractive and popular models as Oceanis 40.1, Oceanis 46.1 & Oceanis 51.1 are still showing extremely good results and there is already a large interest from the market for the coming new Oceanis 37.1 available in 3 cabins & 2 heads. Our goal is to be able to show the Oceanis 37.1 at the Biograd Boat Show (already in September for those who can't wait) end of October and delivery our available boats on time ready for the 2024 season.
Beneteau during the last Dealer Convention in June in Porto announced also new innovation and mini evolution of the Oceanis 40.1 model now available with the new 4/2 layout. (more details on request).
We can offer a full package service as: Company opening Process, Financing through Croatian Leasing companies, to set the optimal configuration for any Beneteau models and take care about the administration and delivery ''keys in hand'' in Croatia. In case you are interested by investing in our program, we stay at your disposal and can send concrete offers and Charter projections so you can get a basic picture of how it looks in real time.
Your Ultra Sailing Team is staying at your disposal for any requestion, please contact us: sales@ultra-sailing.hr
How it works?
1. You decide to purchase a boat and choose the model
2. Based on our experience and booking, we advise the best possible definition of the boat together with you
3. You pay a deposit (20.000 EUR + VAT for Oceanis 46.1 for example) and sign a contract and CM contract, the order is assigned to your name
4. Until the delivery, there is no payment requested from the shipyard, your only duty is to set a company in Croatia if you don't have one. This process can be handled by a dedicated lawyer and doesn't necessitate more than working 15 days
5. In meantime we put you in relation with several Croatian banks able to offer you various Leasing offers and start the approval process by checking the documentation from you. In case you don't need a Leasing, your company opened at this stage is enough.
6. About 3 weeks before the delivery, Beneteau requests the balance payment of the boat.
7. Once the boat paid, we set an appointment with the shipyard and the transport to load and bring the boat to Croatia. The transport is about 5 working days from France to Croatia. Once the boat arrives, we check everything and start the delivery process that takes one week maximum (Mast trimming, Antifouling, rigging, launching and last details). Once the boat is ready, we start the delivery process to our customer and transfer the boat to final destination (one of our 4 charter bases in Croatia).
8. Once the boat is delivered to home base, the base manager takes the boat in his possession and make sure the boat is ready and fully equipped for the charter season (safety equipment, bed-linen, kitchen inventory, dinghy, solar panels, bimini & sprayhood tends, engine service etc.). The boat can then start with the first charter week and generate incomes to the owner.
Every available models for the 2024 season is already in our booking system for the next season.
Features & Numbers:
A new Oceanis 46.1 equipped for charter will cost about 365.000EUR + VAT (456.250EUR) ready to sail in Croatia.
- The Leasing Down Payment requested is 40% of total amount, or 182.500EUR
- Your company is getting back the full VAT amount about 40 days after Leasing activation, or 91.250EUR
- This means the real net down-payment amount is 182.500 - 91.250 = 91.250EUR
- The rest of the amount (60%, or 273.750EUR) is leased in a period of 84 months
- Installment value for a classical model is 4.048,87 EUR (with interest rate of 6,7%)
2024 Season opportunities:
Become the owner and choose the best model for you considering your need and your budget. In 2024 we are able to offer Oceanis 37.1, Oceanis 40.1, Oceanis 46.1 & Oceanis 51.1. There is also an opportunity to buy a new First 44 under special CM program.
Prices, offers and CM projections can be sent on request, feel free to ask!